Japanese Empire
1808-1892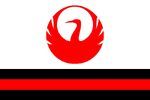 Map here
OTL: Japan
Anthem:
Motto:
Capital City: Kyoto
Largest City: Sendai
Other Cities: Tokyo, Hiroshima, Nagasaki
Languages: Japanese, Chinese, Ainu
Religion: Buddhism, Others
Ethnic Groups: Japanese, Chinese, Others
Demonym: Japanese
Government:
Head of State:
Area:
Population:
Established:
Independence:
Currency: Japanese Yen
Timezone:
Internet TLD: n/a
Calling Code:n/a
Organizations:Asian Powers

The Japanese Empire was a nation located in Asia. It is known as the descendent of the Honshu Empire and the predecessor of the Republic of Japan.
Community content is available under
CC-BY-SA
unless otherwise noted.